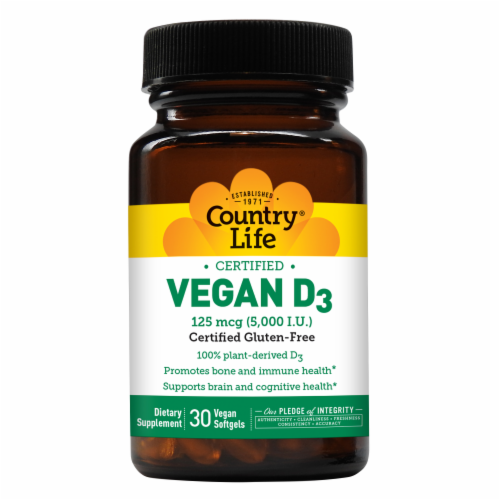 Hover to Zoom
Country Life Vegan D3 Vegan Softgels 5000IU
Product Details
Sunlight is needed for the body to naturally produce D3. However, people who spend a lot of time indoors, or use sunblock, may not produce sufficient levels of this fundamental vitamin. Supplements are needed to help fulfill the daily requirements.
Vitamin D aids in the absorption of calcium, helping to form and maintain strong bones. This D3 is made from lichen, a plant, a natural source of Vegan D3.
Vitamin D promotes bone and immune health. The complementary benefits of vitamin D3 with calcium absorbing is well known, but did you know that vitamin D3 also helps to support our immune system?
Up until now, the source of vitamin D3 has been animal sourced, and not suitable for a vegan lifestyle or those who prefer a plant-based vitamin. Country Life now offers Vegan D3 in a 100% plant-derived form.
100% Plant-Derived D3
Promotes Bone and Immune Health*
Gluten-Free*
*These statements have not been evaluated by the Food and Drug Administration. This product is not intended to diagnose, treat, cure, or prevent any disease.

---