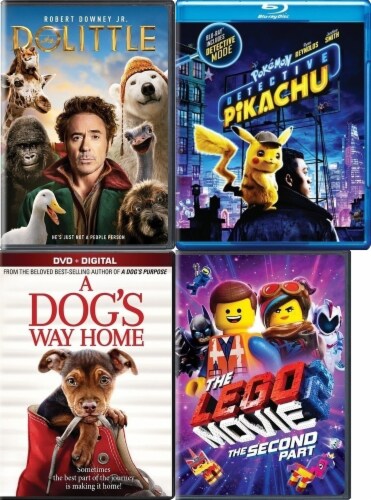 Hover to Zoom
Dolittle/ Dogs Way Home/ Pokemon: Detective Pikachu/ Lego Movie 2 Kids 4-Pack (DVD)
Product Details
Kids DVD 4 Pack: Dolittle/Dogs Way Home/Pokemon: Detective Pikachu/Lego Movie 2
Doolittle: Dr. John Dolittle lives in solitude behind the high walls of his lush manor in 19th-century England. His only companionship comes from an array of exotic animals that he speaks to on a daily basis. But when young Queen Victoria becomes gravely ill, the eccentric doctor and his furry friends embark on an epic adventure to a mythical island to find the cure.
Dogs Way Home: As a puppy, Bella finds her way into the arms of Lucas, a young man who gives her a good home. When Bella becomes separated from Lucas, she soon finds herself on an epic 400-mile journey to reunite with her beloved owner. Along the way, the lost but spirited dog touches the lives of an orphaned mountain lion, a down-on-his-luck veteran and some friendly strangers who happen to cross her path.
Pokemon: Detective Pikachu: Ace detective Harry Goodman goes mysteriously missing, prompting his 21-year-old son, Tim, to find out what happened. Aiding in the investigation is Harry's former Pokémon partner, wise-cracking, adorable super-sleuth Detective Pikachu. Finding that they are uniquely equipped to work together, as Tim is the only human who can talk with Pikachu, they join forces to unravel the tangled mystery.
Lego Movie 2: The citizens of Bricksburg face a dangerous new threat when LEGO DUPLO invaders from outer space start to wreck everything in their path. The battle to defeat the enemy and restore harmony to the LEGO universe takes Emmet, Lucy, Batman and the rest of their friends to faraway, unexplored worlds that test their courage and creativity.
---