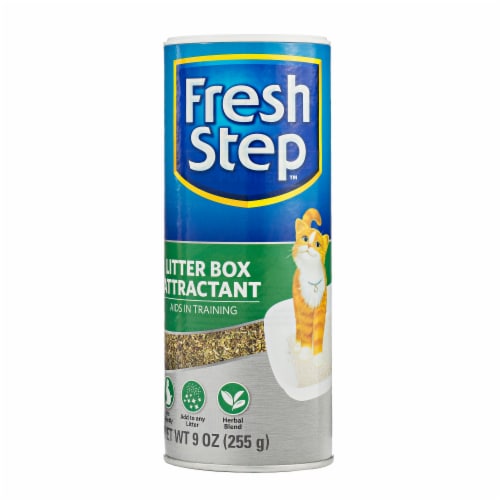 Hover to Zoom
Fresh Step Litter Box Attractant
Product Details
Keeping your cat's litter box and surrounding area clean is necessary for the health and wellness of the home. With clever design and innovation, kitty cleanup just got easier! Fresh Step Litter Box Attractant will bring your cat or kitten to the litter box, so you don't have to worry about accidents around the house. This is a must have for any cat toilet training kit, and will make training your kitty quick and easy. The litter box attractant is versatile and can turn any litter into cat attract litter. The cat attract powder can also be used for a cat of any age; it works as a kitten attract solution and attractant for older cats. The kitten attract litter additive is proudly made in the USA and is composed of an all-natural herbal based formula. It is made without perfumes, deodorants, or chemicals, for a safe litter attractant that won't detriment your cat's health. The litter box attractant comes in a 9-ounce container. The container is conveniently shaped so that you can effortlessly sprinkle the attractant over your litter as needed.
With Fresh Step Litter Box Attractant, your kitty will learn to use the litter box in no time and your house will remain in order; having a cat has never been so clean! The cat attract litter additive is easy to use. Simply sprinkle a generous amount of attractant onto litter in box and mix together. Add cat litter attractant whenever adding new litter. Clean litter box daily.
Ingredients: Timothy, Alfalfa Flower, Alfalfa Meal, Soya Oil with mixed tocopherols and Rosemary extract, Yucca Schidigera Plant Extract.
CAUTION: Keep out of reach of children. Avoid contact with eyes and skin. Wash hands immediately after use. In case of eye contact, flush thoroughly with water. If irritation persists, seek medical attention.
Makes Kitty Litter Training Easy
Versatile
Simple To Use
All Natural
Made in the USA
---