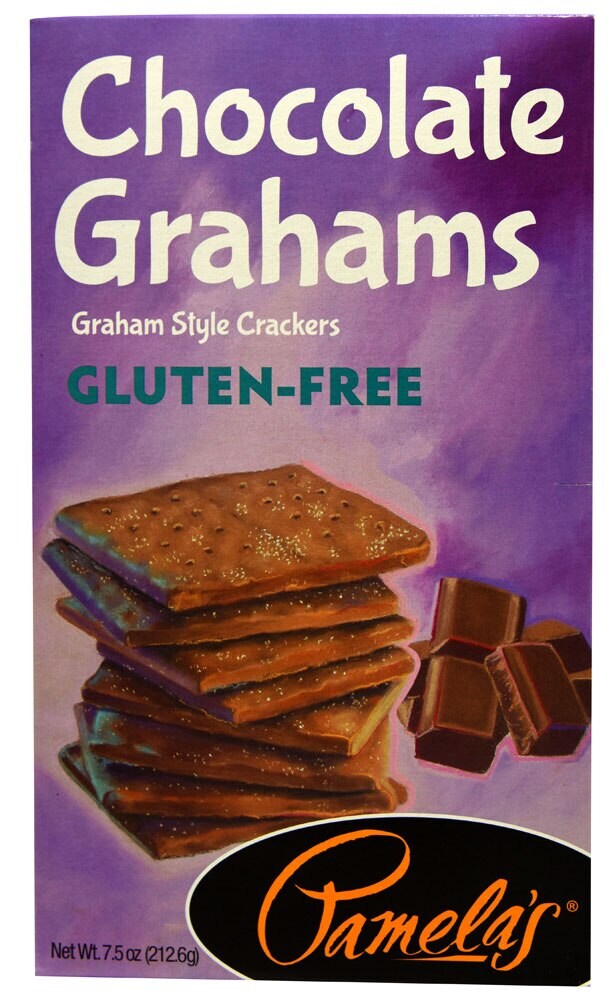 Pamela's Products Gluten-Free Graham Crackers Chocolate
---
Now you can bring back all the favorites from your childhood with Pamela''s Gluten-Free Graham Crackers. Get ready for snacking, dunking, sandwiches, s''mores, pie crusts, and desserts, just like you remember.
S''mores
Sandwich one toasted marshmallow and square of chocolate between two graham crackers. To use a microwave, place mashmallow on a large square of parchment paper or a greased plate. Cook for approximately 10-15 seconds on high. Marshmallow will puff and become sticky. Warning: marshmallow can burn then hot. Place one chocolate square on top of one Pamela''s Graham, top with melted marshmallow, and then top with 2nd cracker. Let sandwich sit for 1 minute for marshmallow to cool down and chocolate to start melting.
Crust for Pies or Cheesecake
1 Box Pamela''s Grahams (1 3/4 cups)• 6 Tbsp Butter (melted)• 4 Tbsp Sugar
Crush cookies into crumbs in a plastic bag with rolling pin or in food processor. Mix with melted butter and sugar and press into lightly sprayed 9-inch pan or for a crust bottom in a 9-inch spring pan. Follow baking directions for your favorite cheesecake or pie recipe. For no-bake pies, bake crust for 10 to 12 minutes at 350°, cool, and then fill with pie filling, pudding or ice cream.
Ice Cream Sandwiches
A new take on ice cream sandwiches using a graham instead of a cookie! Place dollops of softened ice cream between two Pamela''s Grahams and press together. Wrap, and then refreeze before eating. Grahams will soften the longer the sandwich is in the freezer.
---