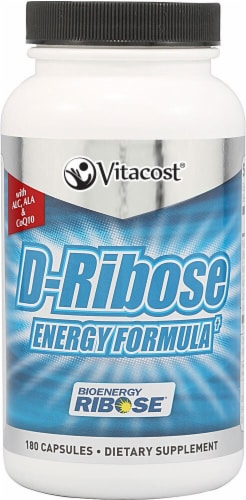 Hover to Zoom
Vitacost D-Ribose Energy Formula Bioenergy Ribose with ALA & ALC
Product Details
What isVitacost D-Ribose Energy Formula?
Vitacost D-Ribose Energy Formula is a unique combination of four key ingredients for stimulating natural energy production. It includes the following in each six-capsule serving:
Bioenergy RIBOSE® (2,500 mg) is a naturally occurring sugar used by every cell in the body. It's an essential compound in energy metabolism that serves as a building block for adenosine triphosphate (ATP)—the body's basic energy source. D-ribose is also the carbohydrate backbone of genetic material DNA and RNA.
Acetyl L-Carnitine (ALC) (1,000 mg) is the acetyl ester of carnitine, an amino acid derivative. It's distributed throughout the central and peripheral nervous system. ALC is known as a mitochondrial antioxidant that can provide anti-aging nutrition. It's also a precursor to the important brain neurotransmitter acetylcholine which contributes to the support of cognitive function and memory.
Alpha Lipoic Acid (ALA) (600 mg) is a natural compound that functions as a co-factor in vital, energy-producing reactions. It's been called a "universal antioxidant" because it is effective in water-based substances such as blood.
Coenzyme Q10 (200 mg) is a fat-soluble, vitamin-like compound found in every cell of the body. It's used by the mitochondria ("power plants") of cells to produce energy. Factors including aging, genetics, and statin drugs can lead to a coenzyme Q10 deficiency.
How does Vitacost D-Ribose Energy Formula support health?
Promotes cardiovascular health
Maintains healthy mitochondrial function
Promotes recovery after sport stresses
Supports a healthy cellular energy at the level of ATP
---