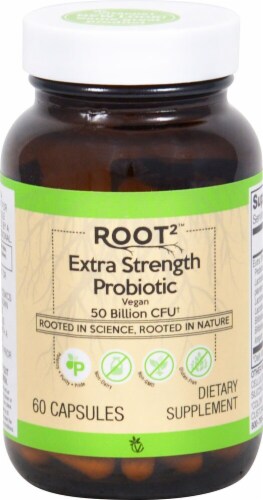 Hover to Zoom
Vitacost ROOT2 Extra Strength Vegan Probiotic Capsules
Product Details
Non-dairy, non-GMO and gluten free
50 billion colony forming units (CFU)
12probiotic strains: Lactobacillus acidophilus, L. plantarum, Bifidobacterium lactis, L. paracasei, L. casei, L. brevis, L. rhamnosus, B. breve, L. salivarius, B. Bifidum, B. longum, L. gasseri
Vegetable cellulose capsules
60 single-capsule servings
A billion sounds like a lot. But in the probiotics world, a supplement may boast 5 billion, 15 billion or more—colony forming units, or CFU, that is. That's the amount of live bacteria you'll find in a formula. Get up to 50 billion and you're in high-potency territory—the place you want to be if you've got big probiotic needs.
ROOT2 Extra Strength Probiotic is packed with just that number, including 12 different beneficial bacteria strains to flood your system with health-promoting microorganisms.* And the best part? It's delivered in vegan-friendly, vegetable-based capsules that are free of dairy and other animal-derived ingredients.
*These statements have not been evaluated by the Food and Drug Administration. This product is not intended to diagnose, treat, cure, or prevent any disease.
---