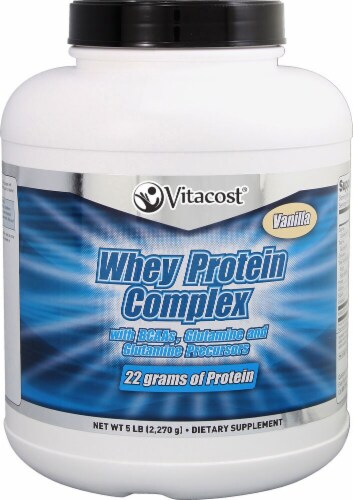 Hover to Zoom
Vitacost Vanilla Whey Protein Complex Powder
Product Details
What is VitacostWhey Protein Complex?
VitacostWhey Protein Complex is a great-tasting shake delivering 22 grams of whey protein per serving. Whey protein is derived from cow's milk but doesn't contain lactose or fat, which is commonly found in milk.
Also included 100 mg of Aminogen®, a naturally derived plant enzyme ingredient that jump-starts the protein digestive process by bursting large, bonded and chained amino acids into smaller, free-form amino acids.
How doesVitacost Whey Protein Complex support health?
Promotes muscle recovery from sports activities*
Helps maintain lean muscle mass.*
Maintains optimal performance during exercise.*
Supports muscle protein synthesis during exercise.*
Promotes immune system recovery after physical exercise.*
Supports healthy liver function.*
Provides the body with branched chain amino acids (BCAAs).
Why chooseVitacost Whey Protein Complex?
Provides 22 grams of whey protein per 2-scoop serving.
Natural vanilla flavor; no artificial sweeteners.
No artificial colors.
Makes 68 shakes per container.
High quality, great value!
*These statements have not been evaluated by the Food and Drug Administration. This product is not intended to diagnose, treat, cure or prevent any disease.
---